June 20,  2014 -- World Refugee Day
Contact: Ruben Reyes, Immigration Activist and Lawyer (602) 358-9845
DeeDee Garcia Blase, Immigration Activist (480) 200-3748
Shirl Mora James, Civil Rights / Immigration Leader (402) 890-2295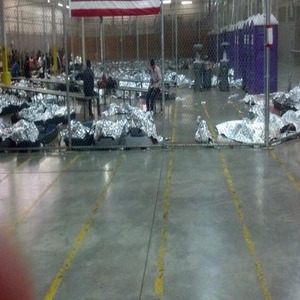 (Above)  Minor Immigrant Children/Mothers Sleeping in Mylar Blankets As They Await Thicker Bed Mattress Mats In Nogales Detention Center. Photo Credit:  Jon Justice Show 104.1 KQTH 
Members of Latino / Chicano Community And Lawyers Speaks on New Legal Concerns Regarding Central American Immigrant Children in Nogales Detention
Date: Friday, June 20, 2014
1330 South 16th Street
Ruben Reyes -- 

Arizona Immigration Attorney and Member of AILA

Rep. Martin Quezada - 

Legislative District Arizona Representative and Arizona Attorney

Reverend Maupin - 

Arizona Civil Rights Leader and Leader of Black / Brown Coalition and Congressional Candidate

Reverend John Torres -- 

Immigration Rights Activist and Minister of Migrant Community
Phoenix, AZ -- Increasing concern by local Arizona residents are growing with regard to lack of legal representation given to Central American children currently being held in Nogales Detention Center in Arizona. Former AILA President David Leopold states: "There is a humanitarian crisis in South and Central America. Political turmoil, ravaged economies, and social problems have led tens of thousands of children to flee Guatemala, El Salvador and Honduras to escape abuse, criminal gangs and violence. Others are forced leave their home countries as victims of human trafficking or abandonment. While the U.S. is not the only country effected, thousands of victims of violence have made their way north to the Southwest border. Among the latest inflow are growing numbers of female victims and children under the age of 12."
Nogales Border Patrol agents told the Civil Rights Delegation these children would not receive legal help until they are transferred to their Office of Refugee and Resettlement (ORR) station which could take several days or more than a week. We have new information and documentation that shows parents are unable to find their children even though their children has been processed through the system. We believe these children are refugees and should not be treated as detainees who do not have any access to urgent legal representation.
We would like to remind legal immigration reform Tea Party obstructionists within the House of Representatives that today is World Refugee Day.
Shirl Mora James, Civil Rights and Immigration Lawyer States: 
The Central American kids currently being detained in immigration detention centers ought to be treated as refugees. Conditions appear to be worse in Central America than in Cuba.
Civil Rights Leader Rev. Maupin states:
The world acknowledges that today is World Refugee Day and it is incumbent upon the US to protect the inherent worth and dignity of these children. These are unacompanied minor children and are victims of a destabilized economy, crime, abuse with a lack of opportunity and hope. This is a humanitarian crisis and a foregin policy emergency.  Congress must act now.
We would like to remind the Republican Tea Party obstructionists responsible for immigration reform gridlock in Congress to pass immigration reform now. It has been over one year since the Democratic-controlled Senate passed immigration reform to include our border-state Senator John McCain. The House of Representatives led by Republican Speaker John Boehner continues to avoid putting immigration reform up for vote nearly a year later.
Our refugee policy begins at home.  
According to Patrick McCormick, a research associate at the Council on Foreign Relations:
"...the United States has a legal obligation to abide by Article 33 of the U.N. Refugee Convention, which prohibits forcibly returning refugees to their country of origin. Article 33 is the keystone of the entire international policy architecture of refugee protection, and its violation risks the integrity of the system itself.

Second, U.S. policymakers must recognize that the migration flow across the country's southwestern border is intrinsically mixed, and includes unaccompanied minors and others with international protection needs.

Third, the United States should work more aggressively through bilateral and multilateral partnerships to guarantee that displaced persons with genuine protection needs are identified and provided with a safe haven. Such efforts should be founded upon – and not merely substitute for – successfully passing comprehensive immigration reform founded upon the human dignity of the migrant.
Somos Independents
 is a national group of key swing independent registered Independent women voters who support bipartisanship in our government that will help solve tough issues.   We are organizing the growing independent registered voter group by getting out the vote with millennial voters, and we realize college-aged students prefer registering themselves as independents rather than choosing a major political party.  We believe in putting people before Party politics.  Co-founders include a former Republican and a former Democratic voter.
Do you like this post?