Arizona Key Swing Independent Voters Give Tom Horne A Thumbs Down For Attorney General In 2014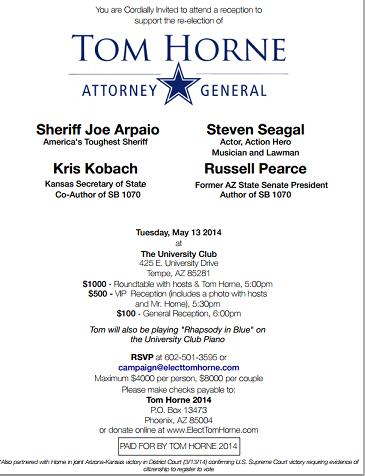 Phoenix, AZ -- Arizona attorney general (AG) Tom Horne is facing new accusations that he is playing fast and loose with campaign rules according to the Arizona Republic. A staffer recently quit Horne's office and is accusing the Republican AG of using his office staffers as campaign workers. Where there is smoke there is fire, and leaders of SOMOS INDEPENDENTS (a woman-led organization of key swing independent voters) cannot support Horne for attorney general in light of what appears to be constant charges related to campaign finance violations.
Tom Horne's extremism is embraced by other extremists who have ruined the Republican image with:
The common denominator between the above politicians and/or entertainers is the sinking ship they are all on. Demographics, millennial voters, shifting political paradigms continue to be the measuring stick of our future. The aforementioned hurts (not helps) the GOP. The independent voters and people of Arizona are tired of the political circus and we encourage plucking out the cancers of our state – and it begins with plucking out Tom Horne for AG in 2014.
Somos Independents
 is a national group of key swing independent registered Independent women voters who support bipartisanship in our government that will help solve tough issues.   We are organizing the growing independent registered voter group by getting out the vote with millennial voters, and we realize college-aged students prefer registering themselves as independents rather than choosing a major political party.  We believe in putting people before Party politics.  Co-founders include a former Republican and a former Democratic voter.
Do you like this post?