Somos Independents is a woman-led organization that focuses on signaling to key swing independent voters towards moderate / centrist views.   We do not believe in extreme views, and we put people needs before party needs.  We do not believe in persons who attack members of protected classes, and we believe Arizona State Senator Quezada owes Cesar Chavez an apology for his "lipstick" attack (who is a member of the LGBT community).
Cesar Chavez is the most qualified to represent the undocumented community, speaks fluent Spanish, is Gay and Chicano/Latino who is a product of public education. Chavez went to school in the district while Pimental did not. As such, Cesar Chavez has our full endorsement for Arizona State Representative. He has no political baggage and seems humble and contrite enough to serve as a public servant for the State of Arizona. We cannot turn a blind eye to felons as Quezada did, and we cannot support criminal activity.  Quezada is supposed to be a member of the Arizona Bar Association, and he should conduct himself accordingly, because as it stands it appears that he has allowed politcal power to go to his head and he seems to have turned corrupt.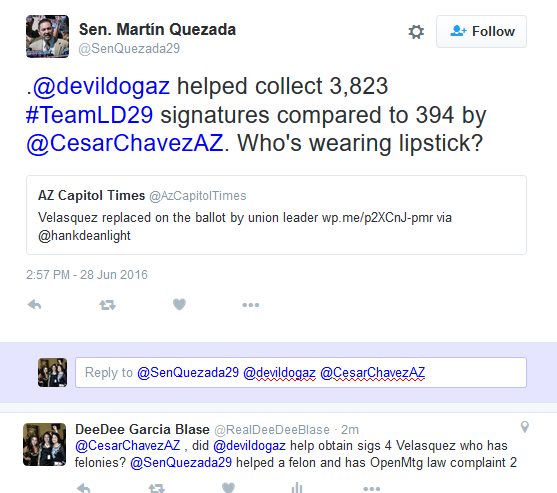 ###
Do you like this post?