July 7, 2014
Department of Justice
Eric Holder
U.S. Department of Justice
950 Pennsylvania Avenue, NW
Washington, DC 20530-0001
FBI Headquarters
Director James Comey
935 Pennsylvania Avenue, NW
Washington, D.C. 20535-0001
(202) 324-3000  
Subject:  Humanitarian Crisis:  Seeking Outside Investigation From DOJ Regarding Murrieta Protestors and Obstruction Of Justice   
Dear Mr. James Comey and Attorney General Eric Holder:
We are seeking outside investigation with regard to the incident that occurred in Murrieta, California when a number of Tea Party homeland domestic terrorists (masquerading as patriots) were obstructing federal law enforcement from performing their jobs and terrorizing small refugee immigrant children from Central America with racial slurs and attacking American men and women who were protecting the children from hate crimes.  We believe the following ought to be investigated:  
1)  Diana Serafin, Councilwoman of the City of Murrieta appears to have attempted or conspired to obstruct federal agents from the performance of their protective functions over the unaccompanied alien children. She should be federally indicted under Title 18,Chap 7, Section 118.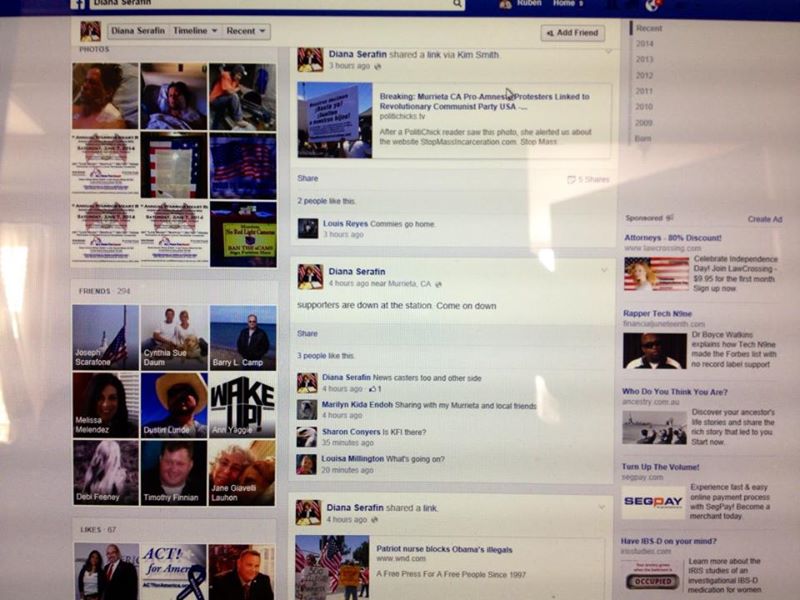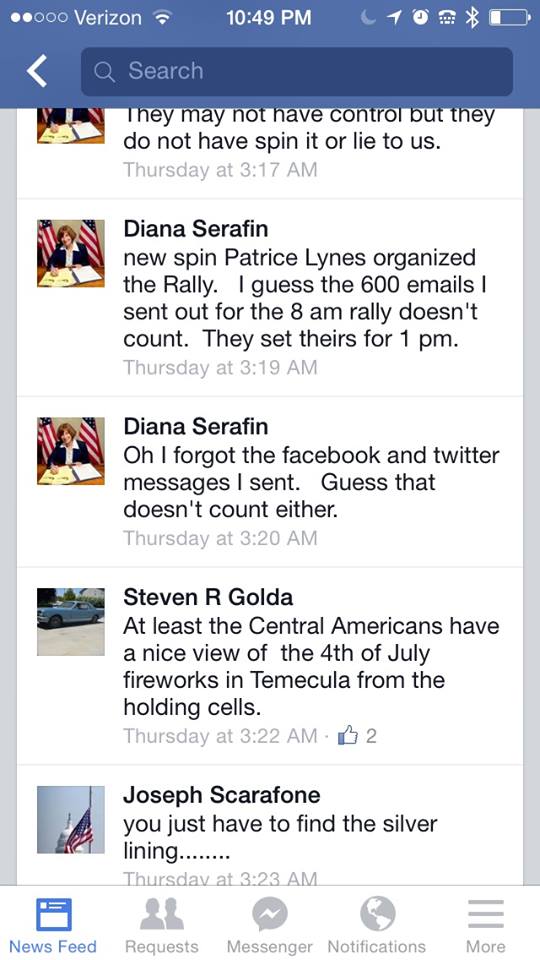 2)   Steven Golda is a Customs and Border Patrol agent (presumably from the Murrieta station) is the federal agent (possibly now retired) along with his cohorts, appear to have improperly or illegally leaked confidential and privileged information to Murrieta city officials on June 26, 2014; 5 days in advance of the arrival of the children refugees from Texas to Murrieta, California, including to Councilwoman Diana Serafin. Allegedly Serafin texted to Golda her concerns over the "illegals" being dumped at the city's bus stations and bus stops and "waiting and waiting spreading diseases." Note that the Golda replied to Councilwoman Serafin that "this is exactly what happens" and - referring to the INS's former "Mexican catch and release" program which has long been discontinued since 9-11 - Golda startled the local city official by saying that he "used to walk them out the door at the BP Station in El Cajon."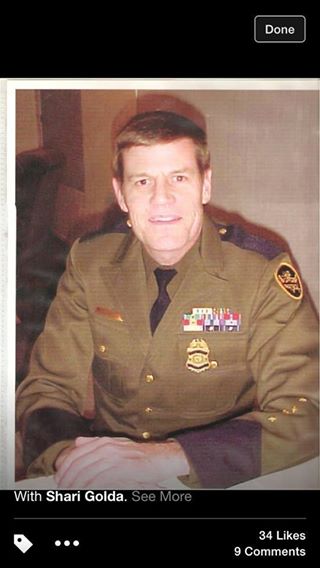 3)   Patrice Lynes is the main organizer of the anti-immigrant Murrieta anti-immigrant protests where a number of hate crimes occurred to include obstructing federal law enforcement from performing their duties in transporting children and wasting American tax payer monies in doing so.  According to her facebook page she is or was running for Council in Temecula.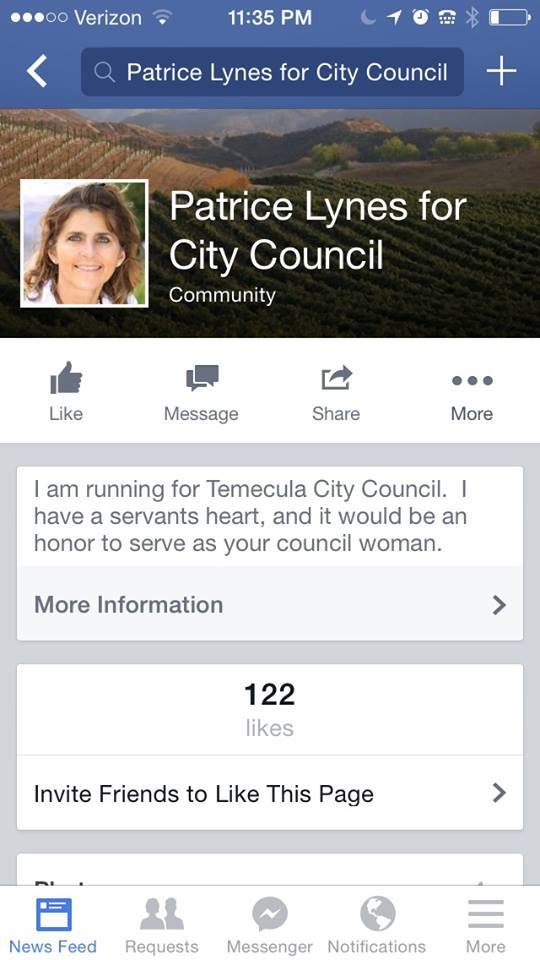 4)  Customs and Border Patrol Agent Gabe Pacheo of NBPC Local 1613 went on the
Laura Ingraham Show
and publicly lied that DHS was instructing border patrol to engage in "back door" or "de facto" amnesty. He knows DHS is simply following the 2010 prosecutorial discretion Morton Memo for ICE lawyers as to adults and the 2008 TVPRA and the March 2009 US CIS procedures and the 2010 DHS regulations relating to "unaccompanied alien children" seeking asylum. Pacheco's non profit appears to be a conflict of interest with regard to his federal responsibilities. The National Border Patrol Council Local 1613 (NBPC Local 1613) is a so-called non-profit private organization representing over 1,500 non-supervisory U.S. Border Patrol agents from the San Diego sector.  Tea Party "patriot nurse" Patrice Lynns takes credit for helping organizing the rally along with "former border patrol agents." Lynns is or was running for Temecula city Council, and also admits in an interview she told local residents the arriving children refugees carried diseases and that they would overwhelm the city's medical resources. Following that lead, the NBPC Local blog released a press release claiming one of the border patrol agents contacted scabies. And, now a member of NBPC Patrol Local 1613 Gabe Pacheco told right wing personalities that the DHS was ordering them to engage in "backdoor" or "de facto" amnesty." All three claims are lies.
Per procedure, the children and families were health screened in Texas BEFORE coming to Murrieta, CA. San Diego Sector Chief Paul Beeson said at the Murrieta townhall meeting there were doctors who checked them out in Texas before they were put on the plane. Plus, none of them were allowed to be held in custody at the Murrieta Border Patrol station; the DHS buses were actually turned around and left them off in San Diego, where they received a pleasant and compassionate reception by local residents. And the agent who supposedly got scabbeis was in Texas, not in Murrieta.
Plus, the so-called "back-door" amnesty political rhetoric being pushed by and wrote about by right wing political activist like Laura Ingrahm and Mr. Breitbart (and now Border Patrol Agent Gabe Pacheco), is a flat lie. Asylum laws and rules for adults is different from special protective asylum rules for children. The CBP agents busing in the children refugees were simply enforcing existing laws and regulations for them: (1) the TVPRA of 2008; (2) the UC CIS March 2009 special procedures for "unaccompanied alien children" seeking asylum; and (3) the new DHS 2010 custody and detention regulations for detention and custody and release into the community. Nonetheless, this "back-door amnesty" lie was spouted out recently by Gabe Pacheco on the Laura Ingraham Show. Pacheco is a member of NBPC Local 1613. Is Gabe Pacheco the person behind the Facebook page, "Nbpc Local (Murrieta), where a picture of the protest appears? Is border patrol agent Steven R. Golda from Murrieta behind Nbpc Local Murrieta, or is he a current or former member of NBPC Local 1613, like mentioned by the racist protestor who spat on Lupillo Rivera? Do these or other current or former members of NBPC Local 1613 have any connection or prior knowledge about the ugly racist protest of July 1, 2014 in Murrieta, CA.? Did the NBPC Local 1613 have any hand in helping organize the hostile rally with Patrice Lynns, under the guise of bogus fears over medical and health concerns and lack of immigration enforcement?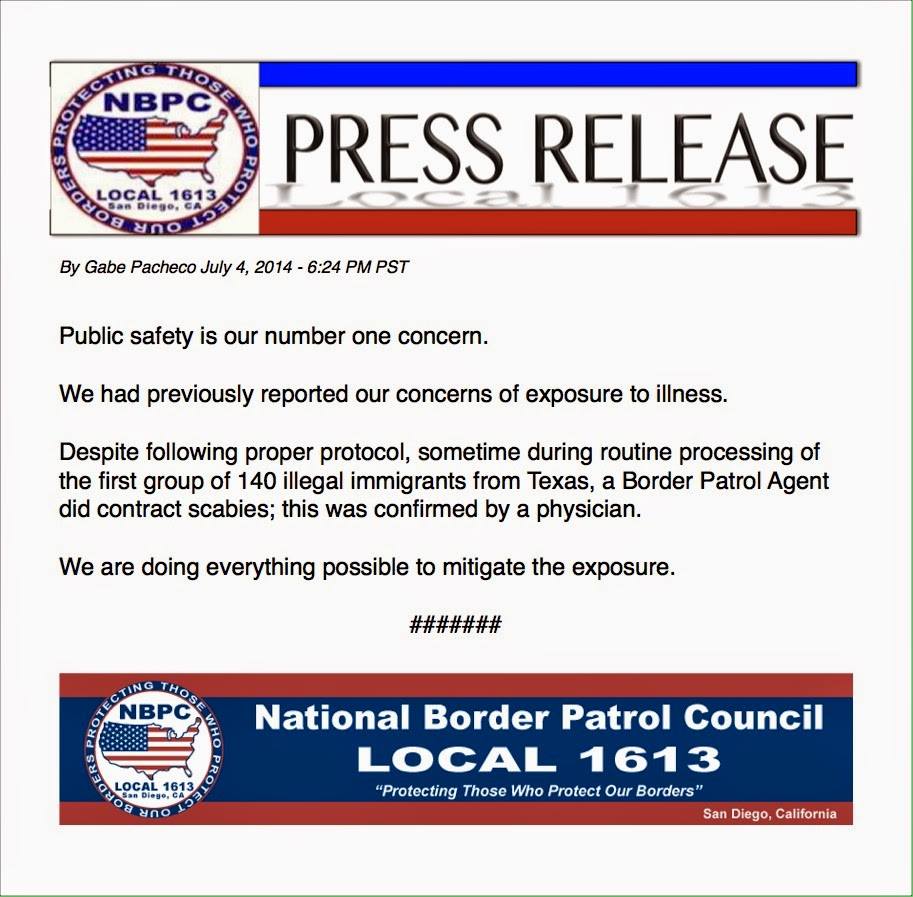 5)  The Murrieta Police Department and law enforcement officers must explain why spitting, assault, hate crimes and obstructing federal law enforcement via the Border Patrol were allowed to take place without any arrests.  
6)  The Murrieta Mayor Alan Long must be investigated for inciting hate crimes and contributing to obstruction of federal law enforcement from conducting their duties.  If Long and Serafin used city time money and staff it's a possible violation of the
Federal Hatch Act
 and/or 
Color of Law
 abuse. 
7)  We believe the Border Patrol agent(s) who may have violated HPPA by releasing confidential medical information with regard to federal CBP agents ought to be investigated.   Border patrol agents involved in leaking information and participating in partisan politics may be in violation of the 
Federal Hatch Act
 and/or
Color of Law
abuse. 
8)  Golda was mentioned in a racist text by local resident Joseph Crosby Culberson. Culberston referred to the refugee children a "infested illegals" and he expressed his objection to having his taxes to pay for "burritos for breakfast" for the "anchor babies." Culberston also appears to have been caught on video by TV as the Murrieta protester who spat on singer Lupillo Rivera. But, Culberston has still not been arrested by the local Murrieta police who stood by idly for his hate crime.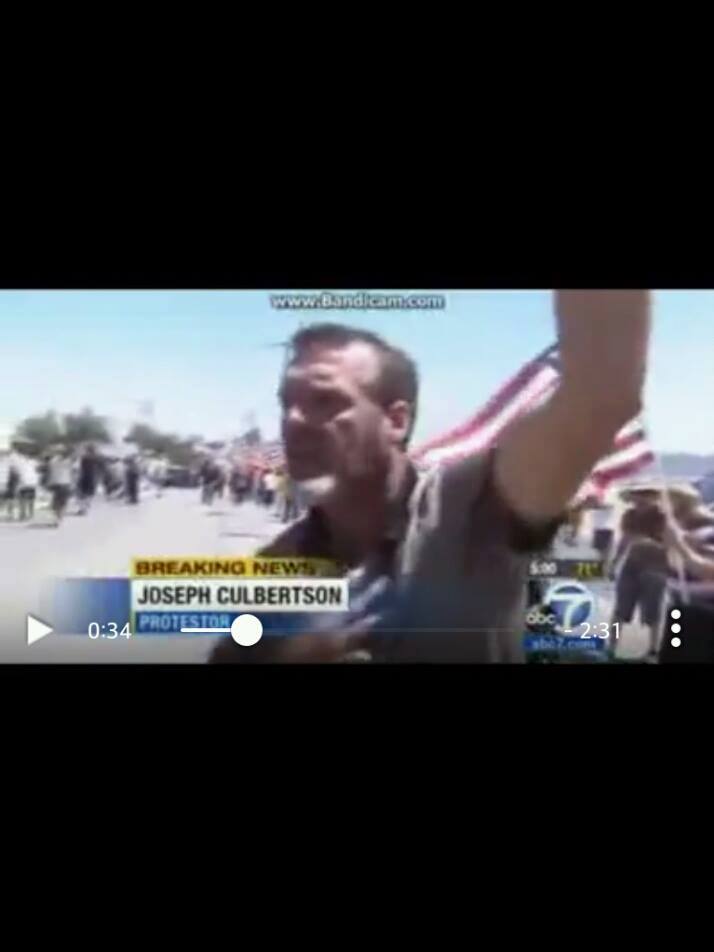 We are seeking the help of the FBI and the Department of Justice (DOJ) with regard to the  parties who are involved with inciting and inflaming hate crimes against innocent Central American refugee immigrant children and obstructing federal law enforcement operations with regard Border Patrol and Homeland security.   These refugee immigrant children should be treated with the same respect the numerous Cuban immigrant refugees are receiving and who are also streaming in from Cuba as their "wet foot dry foot reaches our dry land."  
We believe some of the tax payer resources that have been used for Cuban immigrant refugees ought to be traded or redirected to help in the Central American Refugee humanitarian Crisis. 

Sincerely,
Ruben Salazar
California Resident
Attorney 
Shirl Mora James
Lead Co-President of Somos Independents
Civil Rights and Immigration Attorney 
DeeDee Garcia Blase
Founder, Co-President of Somos Independents
Do you like this post?
---
Tony Torrey
commented
2014-07-07 23:23:10 -0700 · Flag
I just want the Peruvian
llama to be prosecuted.
Ruben Salazar
commented
2014-07-07 00:28:47 -0700 · Flag
Please join our just cause to prevent another "Murrietta" -type incident from re-occurring elsewhere. The ugly incident got racial as local resident were incited into a frenzy of anti-immigrant sentiment, by Councilwoman Dinana Serafin who was tipped off of their arrival by Customs & Border Patrol agent Steven R. Golda. Serafin spread lies in a press conference, press release, and in 600 emails, claiming the children refugees were immediately deportable, but would be detained for an "indeterminate time", and when release they would be spreading diseases as they waited at the city's bus stops and stations. The rabid protesters were also provoked into action by Tea Party darling, Patrice Lynn, the so-called "Patriot Nurse" who lied and told bloggers they children were carrying infectious diseases and that the city's medical resource would be overwhelmed. None of this was true. As all seen, their misinformation campaign almost caused a race riot, and one racist protestor, Joseph Crosby Culbertson, who appears to have been tipped off by
CBP
Golda too, actually spat on Latin singer Lupillo Rivera. This whole disgusting fiasco in regrettably reminiscent of Little Rock, Arkansas 1957, when local police and city officials and racist residents also tried to obstruct federal agents form performing their duties to implement the Brown vs Board of Education decision by helping black children students integrated into a public schools. Well,
THIS
IS
NOT
1957,
AND
THIS
IS
NOT
LITTLE
ROCK
!. Basta con racismo.
THE
TIME
IS
NOW
! Ruben Salazar, Esq.