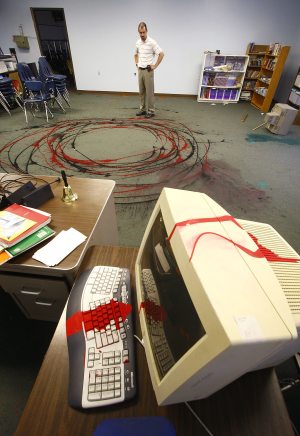 It appears the Roosevelt School District is not listening to community member Ricardo Gallego with regard to computer theft concerns.  Taxpayers have a right to know that their dollars are not being wasted. Gallego has provided the district with evidence here that supports his concern or by clicking: https://www.docdroid.net/5sBSDyP/complaint3.pdf.html
Mr. Gallego writes:
My name is Ricardo M. Gallego.  I'm a community member, former employee of the Roosevelt School District #66 and former member of the Phoenix Union High school District governing board. As a board member at PUHSD, overrides were necessary to fully fund the district. During my employment at RSD #66, several override elections took place as well because funds were extremely limited. As an employee at RSD, I saw a lot of waste in Food Services Dept. Pilferage was a common occurrence with janitorial supplies and as a member of the Maintenance Dept., there too I saw a lot of items purchased by district p.o.'s that ended up in an employee's home. I have been tracking an employee in the Technology Dept. by the name of Jorge Custodio. I have presented incriminating evidence to the Roosevelt School District' Technology's Dept. supervisor , Mr. Nathaniel Hawkins and Superintendent Koba.

On Monday, January 25, 2016, I called Mr. Nathaniel Hawkins at his personal line and left a message. On Tuesday January 26, Mr. Hawkins returned my call and I advised him I wanted to report an employee of computer equipment theft, hardware and software. We agreed to meet on Wednesday January 27, 2016.

On Wednesday January 27, Mr. Hawkins and I met and I presented several documents, these documents are labeled as follows:

1)    A W9 form from the Tempe Elementary School District, to provide technological services using RSD software.

2)    A request form to add Mr. Jorge Custodio to Tempe School District vendor list.

3)    A flyer produced at RSD, using RSD equipment, by Mr. Jorge Custodio for his friend Julio Toro. Opie Amado witnessed the flyer production.

4)    A sign of an orphanage, in Sonoyta, Sonora, Mexico where Mr. Jorge Custodio installed two RSD computers loaded with RSD software. Two telephone numbers and the name of the person that accepted the two computers.

5)    Picture of the two computers Mr. Jorge Custodio installed at the orphanage. As I presented this particular picture to Mr. Hawkins, Mr. Hawkins immediately identified computers belonging to RSD. I drove to Sonoyta on Saturday January 23, 2016 to retrieve the two computers from the orphanage and was informed by an employee, computers had been disposed of that morning.

6)    The model and serial number of a lap top also at the orphanage in Sonoyta. Model no. JQ4JXG1 Serial no. 42938633233.

7)    Monitor View Sonic Model no. VS12915, Serial no. RMH101202180.

8)    Monitor E Machines Model no. 500g, Serial no. MLASA50V13829.

9)    Monitor Dell Model no. E171FPB, Serial no. MX05W540466343621C3V.

Mr. Hawkins expressed to me an investigation would be launched immediately and he would keep me informed as new developments took place. On Monday February Vt. 2016 I spoke with Mr. Hawkins and also with an officer of the PPD. At that time I shared the same information to the officer from PPD as I had shared with Mr. Nathaniel Hawkins.
Later in the week I spoke with Mr. Hawkins and informed me the case had been referred to Mr. Mark Widman. I didn't speak with Mr. Widman.


On Monday February 22, 2016 I met with Superintendent Koba. During our meeting I identified myself and asked Superintendent Koba if she knew the nature of my meeting with her. She responded by telling me it was about the report I had made to Mr. Nathaniel Hawkins to which I said yes. She assured me there was an ongoing investigation against Mr. Jorge Custodio because of previous reports by other persons and that the evidence I presented to Superintendent Koba and Mr. Hawkins would be very helpful in their ongoing investigation. Superintendent Koba expressed to me members of the technology dept. wanted to testify and a meeting with the PPD would take place but it never took place because the investigating officer failed to show. I asked Superintendent Koba to make sure such interviews with the employees and the investigator from the PPD took place. Superintendent Koba also expressed to me a retired person from RSD called a technician from the technology dept. requesting a service call because the retired person's computer was malfunctioning. When the technician arrived at the RSD retired person's home she quickly identified the RSD tags on all components of the computer and that the retired person had said Mr. Custodio had supplied the computer.


On Tuesday February 23, 2016 I met again with Superintendent Koba at which time I returned a computer sold by Mr. Custodio to Rosario Medina Alejos of Indio, CA.
Superintendent Koba accepted the computer I retrieved from Indio CA. and took pictures of all components along with model numbers and serial of monitor, cpu and keyboard. Monitor had an RSD tag number11016157. After our meeting with a PPD officer and Superintendent Koba, I was told by Superintendent Koba and the PPD officer they didn't have enough evidence to prosecute.
Do you like this post?
---
Ericka Nicholes
commented
2016-08-11 13:00:29 -0700 · Flag
Wow, I don't know how I came across your blog, but I'm intrigued. I am a parent in the district and running for school board. This doesn't sit well with me. Does Mr. Custodio have a contract with Roosevelt or is he an employee? There is something I'm missing. We have several programs being cut in the school because of finances so I would love to get more information.