Larry Nolen was a teacher in an Arizona school district for 25 years and a member of the teacher's association for at least 15 years.  He was also a past President of Pendergast Federation of School Employees for 8 years, but also served as Vice President of the federation for 4 years.    
Larry Nolen has met with Martin in the past as a representative of the union to discuss how the district was going. According to Larry Nolen, Arizona State Senator Martin Quezada more than likely violated open meeting law as a member of the Pendergast governing board when Quezada sent text messages to Nolen about a teacher that was supposed to be discussed in private. 
See photos of Larry Nolan's text messages below: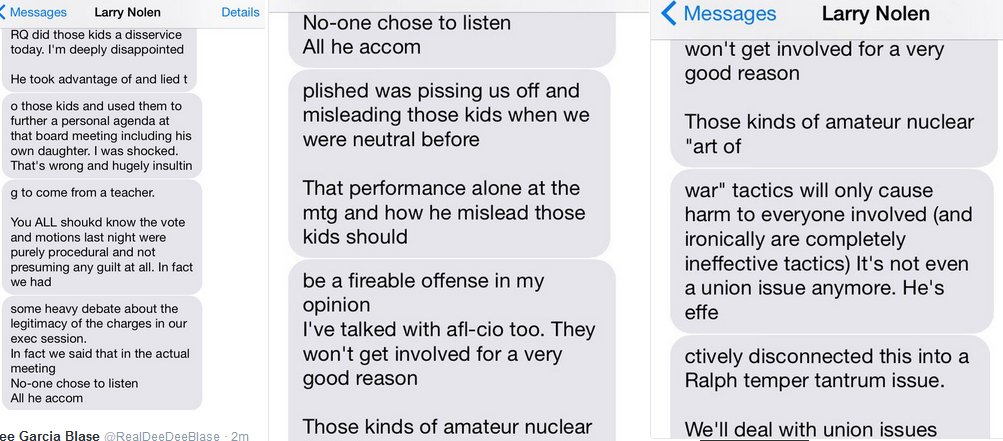 The Attorney General's Office has established the Open Meeting Law Enforcement Team (OMLET) to handle inquiries and conduct investigations and enforcement proceedings relating to complaints of violations of the Open Meeting Law. Investigations are conducted when OMLET receives a signed, written complaint that describes conduct that, if verified, would constitute a violation.  Open Meeting Law Complaint Form
If you are a public body, you have to comply with OML. In Arizona, the Attorney General created the Open Meeting Law Enforcement Team (OMLET) who is charged with investigating allegations of OML violations. Under Arizona law, each violation of OML is subject to[2]:

 a $500 fine;
attorney's fees;
removing the responsible party from office;
fees for the AG's investigation of the OML violation claim; and
invalidation of any action taken in violation of OML[3]
Do you like this post?