Swing Independent Voters, Members of Latino / Chicano Community Speak Against Vote Boycott -- Call Idea unAmerican

PRESS CONFERENCE
DATE:  Friday, October 17, 2014
TIME:  10:30 am
LOCATION:  The OfficePile, 2501 N. 7th Street, Phoenix, AZ 85006
Time:   10:30 am
Phoenix, AZ -- We as independent voters strongly disagree with the voices within the community who are calling for a boycott of the November 4, 2014 elections. We would like to call out those individuals and groups who are calling for a Chicano and Latino boycott of this year's elections. The franchise is a right paid for in blood and sacrifice by the many men and women who fought and died for this right.  The short sided strategy severely underestimates what the vote means to local, state, and national elections and can never be an option.  Our vote is one that can change the outcome of several senate races. Our vote twice, tipped the scale for Obama and various democrats in local, state and national elections. Our vote has meant a more independent California  and a soon to be purple Texas.
Your vote is sacred. Our right to vote is sacred. Our voice is often ignored. This election, independent voters of all stripes and affiliations will make their voices heard at the ballot box and we would like to encourage Latino's everywhere to denounce the boycotters and speak with their vote this election day. Because we did not vote: SB 1070 happened; Jan Brewer was elected Governor; Sheriff Joe is still sheriff; Arizona state government is hostile to Latino communities; Deferred Action recipients are not allowed to obtain driver's licenses. We encourage everyone who is able to vote to vote. We encourage everyone who cannot vote but knows someone who can, to encourage them to vote. We encourage people to offer a ride to their neighbor. Independent and proud!
Speakers and individual members of the Maricopa County, Arizona, community:
Ruben Reyes, Immigration Lawyer

Reverend Jarrett Maupin, Jr., Civil Rights Leader

Viva Samuel Ramirez, Chicano Activist / Former State Director for Voto Latino

Gail Mokry Shultes, Immigration Activist

Alma Montes de Oca, Immigration Lawyer

Francisco Xavier Aguirre, Business Owner

Rosie Valdez, Millennial Voter / Activist

DeeDee Garcia Blase, Co-founder of Somos Independents – Independent registered voter group.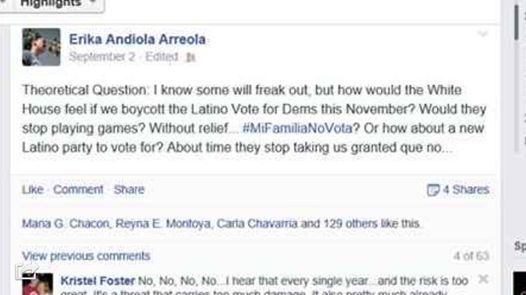 (Above) Erika Andiola, co-founder of Arizona Dream Act Coalition facebook post.
Do you like this post?