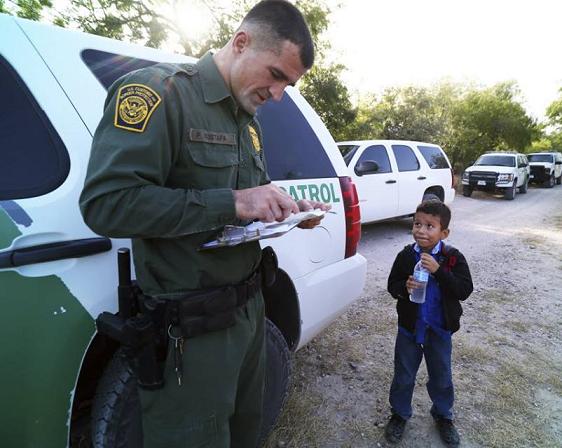 Jesus said, "Let the little children come to me, and do not hinder them, for the kingdom of heaven belongs to such as these." -Matthew 19:14
Reverend Jesse Lee Peterson False Prophet on Treatment of Refugee Children
By DeeDee Garcia Blase
The Reverend Jesse Lee Peterson Show recently invited Somos Independents to appear as a guest on their Tea Party and religious show this past Saturday. Originally the show wanted us to appear two Saturdays ago, but we provided them with a qualified lawyer who is accepting pro bono cases to help with the refugee immigrant in California instead.  It appeared the Reverend was clueless when Salazar confronted him with actual case law that essentially debunked Tea Party anti-immigrant rhetoric. 
I was amazed to see and hear how the Reverend Jesse Lee Peterson Show used his program to invite others to his Church, yet he could not quote one single verse from the bible as it relates to children, the fatherless, the immigrants and/or widows who are fleeing their government to find safe haven and/or refuge in our Nation.  Keep in mind American taxpayers like myself have been supporting 40 years of welfare to the Cuban Immigrant Refugees even though the Cuban government corruption index is better off than the Central American status.  Indeed the Cuban government is in a lot better condition than it was 40 years ago, too.  However, we noticed how Jesse Lee Peterson is turning a blind eye to the Cuban refugee adults while taking pleasure in the bashing of little infants and children from Central America and doing his best to instill fear with the disease and illness angle.  It's unfortunate Peterson forgot how this same 'disease' tactic was used against his own black community.
It's a good thing Jesus Christ wasn't driven by fear, else the lepers, the blind and the sick would not have been healed.  But why is Reverend Peterson afraid of little children and/or diseases?  Oh ye of little faith.  
I am by no means a leader in religion, but Reverend Jesse Lee Peterson claims to be.  This means he ought to be held by higher moral standards than the ordinary person because essentially he is ordained and supposed to lead and do what the bible says if he is to be taken seriously as a leader in religion and church.  According to Scripture, we will be able to tell by the fruits of the Spirit, and I am sad to say that Reverend Peterson bears no Christian compassionate fruit on children, the fatherless, widows and the defenseless when it comes to refugee children who are seeking safe refuge. 
Here is the audio debate and recorded interview between me and Reverend Peterson.   As you can verify with your own ears, he believes a black and brown coalition should not exist.  Never mind the skinhead and KKK groups that are still out there.  Essentially the Reverend does not want black and browns to unite against Anglo politicians such as the ousted and former Tea Party Sen. Russell Pearce who supported a law that would use the color of our skin to put us on the "no probable cause" slippery slope with his "show me your papers" law via SB 1070. 
We discovered how the Reverend Jesse Lee Peterson is connected to the John Tanton Network.  John Tanton has aligned himself with people who are anti-semitic and I believe it is hypocritical for Reverend Peterson to pray for Israel (hear audio here) when he is in bed with a devil.  As you may know, John Tanton is also the founder of Michigan's Planned Parenthood.
Founder of the first Jewish Chicano Radio Show via the Lou Show states: 
Peterson does a weekly radio show. Peterson is also member of "Choose Black America", a new F.A.I.R. front group designed to rally black Americans against Hispanic immigration. 

I caught a couple of Peterson's recent radio programs after the Children Refugees started to arrive in the United States. Peterson's view has been hard-line, ultra Conservative, "immediate deportation", as he sees this as an invasion that threatens the Black Community. He conducts a litmus test of his guests, first asking "Do you love Black People?", then "If you love Black People, then why are you encouraging an illegal invasion into the Black Community?". (This set of litmus test questions sounds like it was written out of the minds at F.A.I.R.) Clearly, Peterson is not a humanist, else he would have some matter of, an iota of, an inkling of, sympathy, understanding, and humanity, for the children who had fled for their lives; Peterson expresses the most extreme inhumanity and selfishness of Anti-Immigration Movement. 
Another hypocrisy comes from Reverend Peterson's BOND non profit organization and is a nationally recognized 501 (c) (3) nonprofit organization founded by Peterson in 1990, and is dedicated to "Rebuilding the Family By Rebuilding the Man."  In no way does Peterson uphold the rebuilding of family views when he has no interest in uniting the Central American refugee children with their families here in our Nation. 
I have come to the conclusion Reverend Jesse Lee Peterson is below standard in radio because in my view he only invites guests only to talk over them.  Setting that aside, the real issue is how Reverend Peterson has become quite the bully against Central American children, the fatherless, the widows and the defenseless seeking a Safe Haven.  He advertises his Church and the gospel but could not quote one single bible verse as it relates to children and immigrants.  Reverend Jesse Lee Peterson gets no love from Somos Independents.  He is a sham of a reverand.  A false prophet who appears to be more interested in bowing down to his political tea party masters who are funding his 501 (c) organizations rather than preaching love and compassion as Christ did while on Earth.  I view the Reverend Peterson as a type of Sadducee / Pharisee, who quotes only Scripture that is slanted in his favor -- rather than the essence of the entire Bible.
I'm glad I am not a leader of religion or Christianity because I'm told God deals with leaders and false prophets in a more severe way.   So bet it.  May our Creator humble this reverend who has no love for these Central American children, because the arc of justice will always bend in favor of children, the fatherless, the defenseless and widows who seek a safe haven. 
Broadening coalitions are imperative when white nationalist groups use simple minded tokens like Reverend Jesse Lee Peterson who are used to pit blacks against browns.  We are part of a black and brown coalition Rev. Peterson considers 'racist' yet Peterson himself has no idea how he is being used by evil forces. 
Do you like this post?