GOP DIVIDED:  Son of Cuban immigrant Sen. Ted Cruz and Jeb Bush at odds.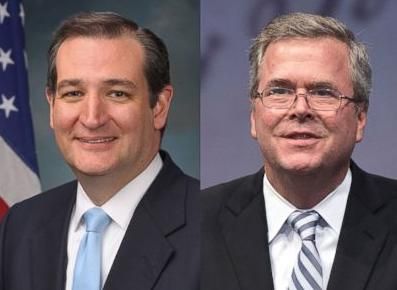 It is no secret, Senator Ted Cruz once supported former President George W. Bush's immigration policy when Republicans were in White House Power.  But now Ted who is the son of a crazy minister (two teaspoons away from Jim Jones' thinking)  wants his Tea Party congregation to believe Obama is to blame for the Central American children who are fleeing conditions worse than Cuba.   Never mind how Sen. Cruz's own Cuban immigrant father bribed an official to enter our Nation.   Since Sen. Ted Cruz was born in Canada of a Cuban immigrant father, does this mean Cruz is against Cuban amnesty, too?
The Office of Refugee Resettlement (ORR) states there are rules governing ORR's resettlement programs and allocation of funding.  
Click on the links below to read Title 45, Public welfare.
Now we see Sen. Cruz putting blame under the current administration even though the Bush administration modified ORR policies.   According to the ORR: 
In July 2004, the U.S. Department of Health and Human Services (HHS) finalized regulations to make clear that, within the framework of constitutional guidelines, faith-based organizations (FBOs) are able to compete on an equal footing with other organizations for HHS funding without impairing the religious character of their organizations. These regulations implement the principles that President Bush set out in two Executive Orders applying to Federal funds:

Executive Order 13198 created a Center for Faith-Based and Community Initiatives at HHS in order to identify and eliminate regulatory, contracting, and other programmatic obstacles to the equal participation of faith-based and community organizations in the provision of social services by HHS (Federal Register, January 31, 2001).
Executive Order 13279 charged HHS to give equal treatment to faith-based and community groups that apply for funds to meet social needs in America's communities. This Executive Order was designed to ensure that no organization is discriminated against based on religion, and that federally funded social services are available to all regardless of religion (Federal Register, December 16, 2002).

Inherently Religious Activities:

A participating organization may not use direct Federal grants, sub-award funds, or contracts to support inherently religious activities such as religious instruction, worship, or proselytization. If the organization engages in such activities, it must offer them separately, in time or location, from the programs or services funded with direct Department assistance, and participation must be voluntary for the beneficiaries of the Department-funded programs or services.

Independence of Faith-Based Organizations:

A faith-based organization receiving HHS funds retains its independence from Federal, State, and local governments, and may continue to carry out its mission, including the definition, practice, and expression of its religious beliefs. For example, a faith-based organization may use space in its facilities to provide secular programs or services funded with Federal funds without removing religious art, icons, scriptures, or other religious symbols. In addition, a faith-based organization that receives Federal funds retains its authority over its internal governance, and it may retain religious terms in its organization's name, select its board members on a religious basis, and include religious references in its organization's mission statements and other governing documents in accordance with all program requirements, statutes, and other applicable requirements governing the conduct of HHS funded activities. Faith-based and community organizations may reference the "Guidance to Faith-Based and Community Organizations on Partnering with the Federal Government" at:www.whitehouse.gov/government/fbci/guidance/index.html.

Regulations pertaining to the Equal Treatment for Faith-Based Organizations can be found at either 45 CFR 87.1 or the HHS website.
It's hard to keep up with Sen. Ted Cruz's immigration shuffle, and since he touts his evangelical Christian beliefs -- one would think he would remember Jesus Christ's words on how to treat our neighbor.  
Without a doubt the Republican Party is divided, and this is evident when you see Sen. Ted Cruz (formerly supported by the Bush's) reversing his immigration positions at policy odds with 2016 hopeful Jeb Bush on his immigration policy positions. 
Do you like this post?