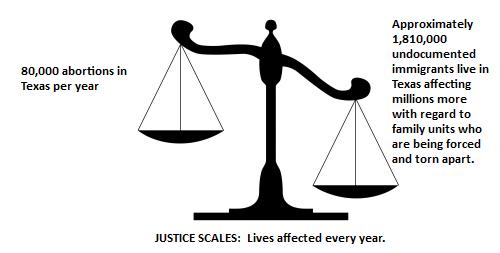 Immigration is a life issue, too. 
The Mexican-American or Latino population are primarily identified as Catholic or Christian. The pro life issue is an issue important to Mexican-American / Latin women and Texas voters, however, we would like to inform voters of Texas how the Eugenicist spirit of Margaret Sanger has been allowed to creep it's way into the ranks of the pro life movement.   
We hope Catholic leaders will send a strong message to their Catholic faithful serving in pro life organizations as committeemen to hold pro life organizations accountable in defense of those who attack birthright citizenship and/or embrace a culture of death in our private prison society.
Co-founders of SOMOS INDEPENDENTS do support the pro life movement from the womb to the tomb standpoint, and we do so – not by climbing the uphill battle in reversing the Supreme Law of the land when the Supreme Court ruled in Roe v. Wade, but with arming ourselves with education and informing women of the negative long term psychological, emotional and physical impacts of getting an abortion.
However, if pro life organizations are going to remain credible pro lifers, then they must begin separating the sheep from the goats and it begins with them not endorsing Republican politicians who want to attack birthright citizenship or align themselves with those who embracing sexual predators and the culture of death. More importantly, we also believe the National Right To Life has blood on their hands in turning a blind eye to this issue affecting babies of immigrant women who are dying in immigration detention.  
Our national voter group – led by a Texas-born woman and a Nebraska-born American woman (of Mexican descent) cannot support Greg Abbott for Texas governor in light of his campaign allies and Republican cohorts attacking birth right citizenship that directly affects baby matters and is a direct assault on our 14th Amendment Constitutional right. We cannot support politicians who align themselves with the culture of death to fellow Americans and our leaders who were elected by American people.
Last but not least, we want to highlight the one year anniversary since the U.S. Senate passed legal immigration reform one year ago today with the assistance of Republican Senator John McCain.  We are keeping track of politicians (mostly from the Republican Party) who have obstructed and refused the forward movement of legal immigration reform when the majority of Americans know that the system is broken and badly needs to be fixed.  The current administration has shown compassion to DREAM Act students when he offered the DACA program to children; but now we witness a very hostile Republican Leader via Speaker Boehner threatening President Obama with a lawsuit for attempting to fix a broken system even though the Republican Party has done nothing to move the Senate bill forward a year later. Indeed a recent June 2014 study shows most Americans favor providing a way for immigrants who are currently living in the U.S. to become citizens provided they meet certain requirements. 
---
House GOP Representatives like Speaker Boehner are preventing legal comprehensive immigration reform from taking place this year. Rep. Nancy Pelosi told Rep. John Boehner we have enough bipartisan Republican votes to pass immigration reform. The Democratic-controlled Senate passed a bipartisan immigration reform plan months ago, and the one man preventing this from being voted on this year is Speaker Boehner.

We remember too well when key competitive districts were won with the help of the Hispanic and Women Vote. A case in point is when Candidate Sharron Angle and the GOP thought they could win a race in a competitive district withOUT the Hispanic vote. We were glad to see her lose after demonizing Latinos with her racist ads. 

No Immigration Vote in 2013 Spells Trouble for the GOP in 2014 regarding rising Hispanic voters. Hispanic Voters, Catholic Voters, Women Voters, Independent Voters are counting down to see if House Republicans will fix the Broken Immigration before going on their Christmas vacations. 
House Republicans Should Fix Broken Immigration Before Going On Vacation
While the vast majority of blue collar workers work their fingers to the bone, Americans are getting screwed by those T.E.A. (taxed enough already) Party politicians.  Republicans own the majority of the seats in the House of Representatives during 2013 and 2014.  GOP  House Speaker John Boehner is the 4th highest paid government official getting paid almost a quarter of a million dollars per year with our tax dollars.  We do not believe it is acceptable for Republicans to decrease Congressional working days in November / December 2013 in light of Americans having to endure the government shutdown debacle, obstructionism, partisanship, infighting with regard to the Affordable
 Care Act, Syria, Iran, budget talks, immigration reform and etc.  We have watched the GOP-led House of Representative polls sink, and we believe they do  not deserve to go on extended vacation
 breaks considering Americans pay over $75 million budget per year in order to fund 435 House of Representatives.
---