Via Thug Army Life:
| | | | | |
| --- | --- | --- | --- | --- |
| Racial Struggles: Rally For Rumaine Brisbon Shot by Phoenix PD Tonight 8:00 pm | | |   |   |
Thursday, 04 December 2014 08:25
(Above Rumain Brisbon with his baby)
RALLY FOR RUMAIN BRISBON
Date:  Tonight, Thursday, December 4, 2014
Time:  8:00 pm
Where:  Downtown Phoenix Civic Space Park, 424 N Central Ave, Phoenix, AZ 85004
Reverend Jarrett Maupin and other local black and brown leaders speaking for justice tonight.
---
Mary Rose Wilcox played a dirty trick I am embarrassed about.  I'm a big believer in helping to preserve the Black and Brown Coalition here in Arizona, and it appears Wilcox is using dirty tactics that divides this important coalition.
For instance, recently Mary Rose Wilcox sent out a mass mailer listing several black leaders who have endorsed her for the Congressional seat she is vying for.  However, she lied and in fact, only 3 of those 13 leaders endorsed her for Arizona Congress Legislative District 7.  Bishop Felton King passed away several years ago.   All the other black leaders in her mass mailer gave money, time and support for Reverend Jarret Maupin.
Shame on Mary Rose Wilcox.  Key Swing Independent voters of Arizona are giving her a thumbs down for playing dirty politics.  We are getting behind Civil Rights Leader via Reverend Jarrett Maupin for Congress.   He can bring healing and keep a strong Black Brown Coalition alive in Arizona.  Maupin is half black and half Mexican American who married a Mexican wife.  He is the only one who can be on both the Black and Hispanic Caucus if elected to work for us in Washington DC.
The Reverend wanted to avoid the endorsement angle, but Mary Rose and her dirty politics leaves him no choice but to answer who is behind him.  To see the endorsements visit:  Maupin For Congress.
---
Arizona House of Representative Ruben Gallego (who I have referred to in the past as being part of the Greedy Gallegos) believes he has the experience and qualifications to run for Congressman.  But if you look at his record as House of Representative in Arizona, you will find that not one single bill where he lists himself as a Prime Prime Sponsor has NOT passed.
A crummy record for a politically greedy man. 
My advice for Gallego is to garner more experience and work on having more success under your belt.  There is a reason why the Arizona Central endorsed Mary Rose Wilcox over this snot-nosed politician who is getting a lot of 'outside' and/or dark money. 
Advice for Gallegos?  Stop using your political status and power to threaten those who have more experience than you.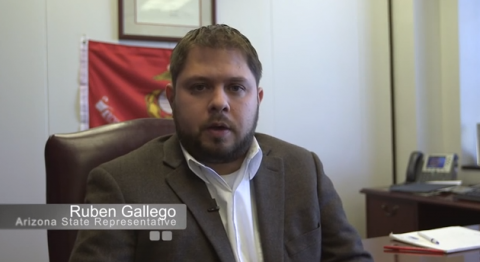 ---