Gabriel Molina used to work for Empire Metal Products until he started blowing the whistle on mistreatment of undocumented workers in a metal shop where union organizing is frowned upon.  Even worse is how coworkers were allowed to use the racial slur "Wetback" and/or bring in knives that had a Nazi swastika on the handle of the knives.  Molina stated that Sal Farina, owner of Empire Metal Products, Inc., was conveniently firing and hiring undocumented immigrants so that they could not take advantage of their vacation benefits and/or overtime benefits.  Allegedly, the metal machine shop was also forcing workers to take vacation days on specific days because of so called "black out days" when they were forced to work.  According to Gabriel Molina, Empire Metal Products would get angry when Gabriel needed to take his mother to chemotherapy and/or support his wife when she was having a baby or other medical-related issues.  Bottom line was that Empire wanted their workers to work despite medical emergencies that occurred in workers' families.
After Molina was constructively fired, he went to the EEOC to file a complaint, and the EEOC gave him booklets to pass out to the Empire Metal Products workers since discriminatory practices and abuse were being reported.  When Gabriel Molina passed out the booklets to Empire Metal Products, the owner Sal Farina had his lawyers file an injunction against Gabriel Molina in Maricopa County, Arizona, Case Number CV2016-05184.  Molina's last day working for Empire Metal was on March 14, 2016, when a supervisor told him to clock out for a mandatory meeting.  Gabriel Molina said he should be on the clock if he has to attend a mandatory meeting.  While they were waiting for the mandatory meeting to begin, Molina's wife and daughter were at the clinic for illness and Gabriel told his supervisor that he needed to support his sick family.  Since they were not paying him to stick around for the mandatory meeting, he needed to support his sick family. 
Sal Farina denied all of Gabriel Molina's allegations, but when asked if he knew of undocumented workers working at Empire Metal Products, Inc., he put the blame on the people who do payroll and said he did not know.  Gabriel Molina disagrees and said Farina does know and this is how exploitation of undocumented immigrants have been allowed to occur at Empire Metal.
As of April 5, 2016, Empire Metal Products shows a pattern of retaliation against Gabriel Molina's son who was suspended for using their bathroom too much.  See photo.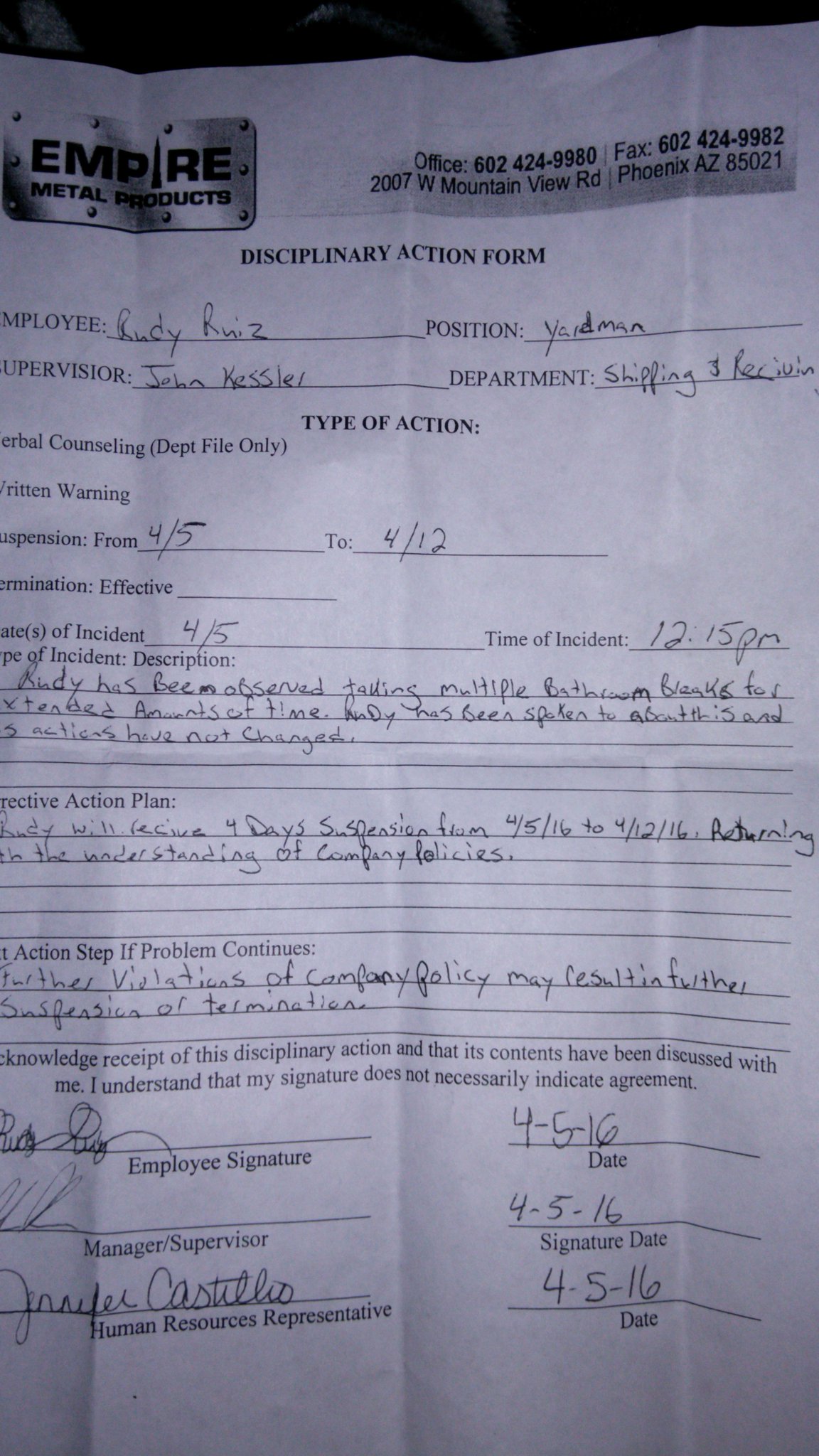 A hearing date will be set for Case Number CV2016-05184 where we will be following up on this story with regard to discriminatory practice charges made by Gabriel Molina and the retaliation he feels he is receiving by Empire Metal Products. Union organizers have been contacted as a result of exploitation and will continue to help the Molina family.    The Molina family filed a complaint with the EEOC, OSHA (since employees are getting burned by lack of safety equipment on the job),and other agencies.
Here is the Answer made by Gabriel Molina as he defends himself against the injunction filed by Sal Farina and Empire Metal.
ANSWER

Defendant asks the Court to dismiss the Employer injunction.  Defendant has a son working at Empire Metal Products, Inc. and sometimes transportation is required to take son to and from to work. Empire Metal Products is filing an unreasonable injunction against Defendant because the Defendant was merely passing out pamphlets given to him by the Equal Employment Opportunity Commission (EEOC) to pass out to fellow workers because employee rights are being violated.  No threats or harm was conducted to Jennifer Castillo by Defendant.  The Defendant was merely warning her how the Sal Farina, owner of Empire Metal Products, Inc, was blaming Jennifer for his hiring of undocumented immigrants instead of accepting ownership and blame on his own accord for having knowledge of it.

3/14/2016         At 4'o'clock, I was asked to clock out for a manager's meeting. I waited in the break room for over an hour while off the clock. While waiting in the break room, I received a call from my wife that she was ill and that she could not handle the kids. I went and informed Steve that a former employee by the name of Victor was waiting to see if he had his job back. Steve stated that, he could wait. At 5:15, I was called into the "meeting" and it was about a 5minute meeting where Sal stated that he was very happy with the new changes that he had started and that the "idiot" was wanting his job back for the 5th time this year. Sal stated that "might as well, he has been doing this for 10 years"

When the meeting was over, I approached John and asked why are you guys keeping me here when I was told to clock out at 4. John responded with, "It's like your salary but not and your like a supervisor but not" I did not want to argue so I left the meeting as I was already off the clock. On my way home, I received a call from Sal to come back to the office to talk. I went back to the office and spoke with both Sal and John. John was stating that he did not know why he told me what he said. John left the office and had Steve come into Sal's office. Steve stated that he had me clock out due to not wanting overtime.  I was ready to go home and expressed that my wife was ill and needed me home so we would need to figure this out tomorrow. When I got home, my wife was very ill.

    On 3/15 @ 5:45 am, I called Steve and informed that I was not coming in because my wife and daughter were very sick and I needed to take care of them. He said I needed to call Sal and I told him that I was told I needed to call him as he is the manager and that was what I was doing.

In the afternoon, I had time to think about what was going on and I messaged Sal informed him of the issues I was having and he said that he was too busy because he was working too hard. I did not receive any other response after that.

On 3/16 @ 9:22 am, I received a message from Sal stating that the issue was handed over to John and that he would make John available to meet with me at 12:45. I responded back to Sal stating Really? John does not have the authority to make any decisions.

At 12:45, I met with John. When I arrived, Sal had Willie in his office as a bodyguard and said that I would be meeting with John in the back office. In the meeting with John, I was asked a series of questions, Why, did I walk out? Why was I a no call, no show? When trying to explain myself, I was told to shut up.  I stated to John, that I do not understand how they want me to conduct myself professional with them, when they do not act professional themselves. I also stated to John that as a man, I don't know how to conduct myself when talked to like that, when normally if someone talked to me, there would be an altercation.

I chose not to continue with this conversation with John and asked why did they even have me there? John responded with, this is the last chance for me to be employed there and that I would not be able to manage anyone, that I would be going back and taking orders and told what to do and when to do it. I felt that their reasons and scenario, they were giving me were all fabricated because I DID NOT walk out and I was NOT A No call No show. I left because I was clocked out and I did call in. I refused the offer and left.

3/16 @ 7:10, I received a call from Sal and we discussed my issues and he offered my job back with a supervisor title still, with better pay. Sal stated, money was no problem this was after he was contacted by DeeDee Garcia Blase – a national immigrant advocate, who is writing a story about employer allowing the derogatory slur of "wetback" to be used by employees.  Sal, kept pleading with me, stating" Put the shit back in the horse".

In the conversation with Sal, I expressed to Sal that 16 years ago when I first started working with Sal, I felt I was mistreated and back than I did not have any knowledge on resources to help me, that back then I felt that I wanted to kill him but that was 16 years ago. I expressed that I did not feel that way anymore because I have grown a lot for than and that is why I was coming to him with my issues as he had suggested I needed to do. Our conversation ended on a good note, with that I had my job back and that I would be paid more. Per Sal, I just needed to come in the next morning so we could sort through  it all and to just stop the course that I had started in contacting my resource "DeeDee." I told him I would see what I could do.

On 3/17 @ 9:00, I went to Empire to speak with Sal. Sal started to say that he did not feel comfortable working with me and how could he trust me. He tried to convince me that I did not want to work there. He offered me money to keep my mouth shut in the meantime while he sorted through things. I DECLINED the money and told him that I just wanted to be treated with respect and fair. I left.

On 3/18, I had a meeting at 9:30 at the Sheet Metal Workers Union with Pat Montroy. I was there for about 2 hours. I went to lunch at Big Mike's Diner and went home at about 2:30. I never went to any employees house on 3/18/16.

On 3/19, John Steigmann came to my house and we talked. John was apologizing that he could not do anything because his hands are tied and that is how Sal wants it. John expressed that he hopes our friendship will remain after all this clears up. He told me he loved me, we hugged and he left my house. My wife was present during this whole thing.

On 3/21, I messaged Jennifer Castillo to thank her for her help and advise her to protect herself because per a recorded message Sal was blaming her for the hiring of the illegal immigrants. Just advised her to keep a journal because I was pretty sure she has had to do things that in her heart she knew were wrong. I never threatened her by any means.

At 2:30, I went to the EEOC to file a complaint and I was given information to hand to the Hispanic employees. My wife and I had a late lunch and when we were finished, my son and his friend were done working. I did not park in the parking lot of Empire, I parked at the company next door. As I was standing outside smoking a cigarette, one of the supervisor's came up to me and we briefly talked. My son and his friend came out and we left.  I went to James house and left EEOC material with his wife. I did not make any threats to her or towards James.
Do you like this post?