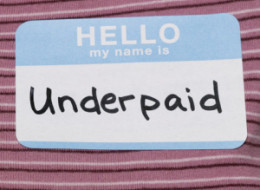 Teachers are already taking a hit in Arizona.  Educational morale is near another all time low with budget cuts, so it does not make any sense for Arizona senators to vote in support of raising fees for teachers. 
Today, Democratic whip Senator Martin Quezada voted to raise the fee on teachers when they renew their certificates.  
Those who voted with him claimed it was a symbolic vote for the legislature "to find education."  Symbolic or not, it is a stupidly thing to take it out on our public school teachers.  We should not take more money away from teachers who take care of our children, and had Mr. Quezada had any children of his own, he would know the ins and outs of how precious our children really are and why we must take care of our teachers who instruct them.   Concerned parents interact with their student's teachers and we hear their complaints with the demands made of them when budget cuts are made.  We should not punish our teachers with raising their fees to renew their certifications.
HB 2620 legislative language can be found here, with the final failed attempt to raise fees being killed here.
Please call or email Sen. Quezada and voice your concerns to him now:
Do you like this post?
---
Stephanie Adames
commented
2016-04-08 13:00:36 -0700 · Flag